Records And Pics
[ Up ] [ Statistics ] [ Roster ] [ history ] [ Record ] [ Credits ]
Through the first years of this franchises existence, The Colorado Avalanche have been one of the best teams repeat ably . In the 1995-1996 2000-2001 seasons the colorado avalanche took home the Presidents trophy. The presidents trophy is given out every year to the National Hockey Leagues (nhl) team with the best record and most points.
Heres Some Pics Of the Colorado Avalanche: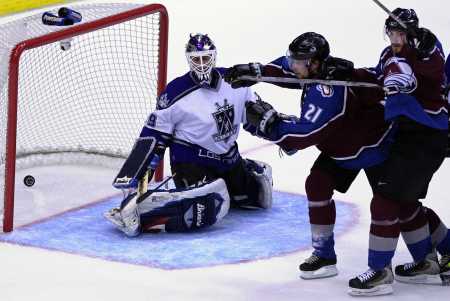 This is a pic of Peter Forsberg and Milan Hejduk after Scoring!
This is a picture Of Defense Rob Blake with his Old Team. He was Aquired from the Los Angeles Kings along with Steve Reinprech For Adam Deadmarsh and AAron Miller .
This Is a Pic of captain Joe Sakic With Patrick Roy after winning the Stanley Cup!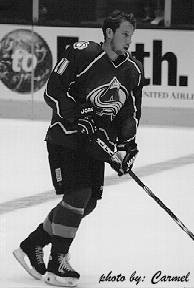 This is a Picture of Peter Forsberg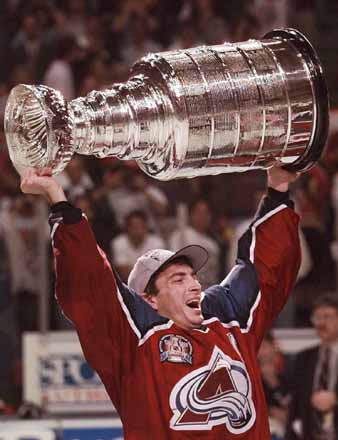 Another pic of Joe Sakic holding up the cup
Picture of Chris Drury Rushing Shjon Podein After Podein's Second goal of the playoffs
Rob Blake Giving Ray Borque a tap on the head after Borque scored the opening goal of game 2 in the Western Conference Files.
Colorado Avalanche Joe Sakic, left, and Rob Blake, right, and teammates gather around Ray Bourque after he scored in the first period against the St. Louis Blues
Captain Joe Sakic holding up the western conference championship cup , after he scored the game winning goal in game 5, 24 seconds into ot.
Joe Sakic scores the first goal of game # 1 of the Stanley Cup finals.
Martin Skoula knocks over Scott Gomez of the New Jersey Devils in Game # 1 Of the Stanley Cup Finals.
Rob Blake fires the shot from the face off circle .